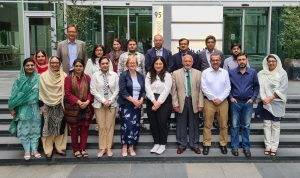 In view of the ongoing reform efforts of the Pakistani government about the harmonisation of value added tax (VAT) a study tour to Berlin on the administration of VAT across jurisdictions took place from July 16 to 23 2022.
Focus of the study tour was the legislation and procedures on VAT applicable to inter-jurisdiction supplies of services amongst other to international transactions with EU and non-EU jurisdictions.
Indecon consulting was tasked with preparing and supporting the conduct of the Study Tour, coordinating and supporting the individual presentations as well as moderating the workshops and discussions. Presentations and workshops were held by the German Federal Ministry of Finance (responsible for drafting the respective policies and legislation), the Ministry of Finance and Tax Authorities at state level (regarding the implementation at state level), the Association of German Chambers of Commerce and Industry (regarding the view of the business community), by tax advisors (regarding the practitioners' view), and by the IBFD regarding the international perspective).